4 Types of Flooring Tile that Look Like Wood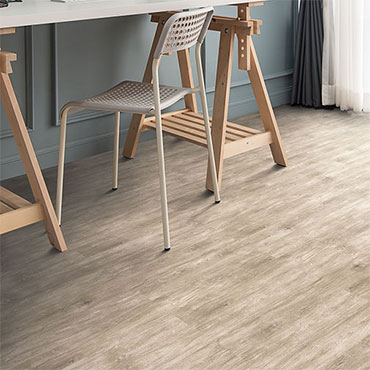 Wood flooring has a timeless aesthetic, which has long been a popular choice for companies wanting to introduce an organic feel into commercial spaces. It's easy to co-ordinate with different styles, thanks to its simple, classic appeal. Unfortunately, the price and ongoing maintenance costs of wood flooring makes it unattainable for many organizations with smaller budgets.
Fortunately, there are lots of alternatives available - several different types of flooring tiles designed to recreate the wood aesthetic, but at a fraction of the cost. Here are four common flooring types that provide the same appeal as real wood flooring, to consider for use on your next design projects.
1) Laminate Wood Flooring
Laminate flooring is often thought of as the go-to alternative to wood flooring. It's a simple way to create a similar aesthetic, at a fraction of the cost of real wood.
Laminate is much more durable than solid wood flooring, thanks to the clear protective coating - usually a combination of melamine and aluminum oxide. However, this coating changes the aesthetic, giving added durability but compromising the design.
One further consideration is that laminate flooring is prone to warp if exposed to moisture. Extra care needs to be taken when cleaning laminate flooring, and you should carry out moisture testing prior to installation, to help eliminate moisture from the subfloor.
2) Engineered Hardwood Flooring
Engineered hardwood planks have a layer of hardwood on top of a core that's commonly made from layers of ply that are bonded together. This allows it to achieve an aesthetic closer to that of solid wood flooring than laminate.
The wood top layer faces the same challenges of wear as conventional hardwood flooring, and engineered hardwood flooring can come with a higher price than other wood flooring alternatives.
3) Wood-Look Porcelain Tile
Wood effect porcelain tiles are a less common alternative to conventional wood flooring. These tiles combine the aesthetics of wood flooring with the durability of porcelain tiles. However, these are likely to be a less popular flooring choice in commercial environments, outside of bathrooms and kitchen areas.
Porcelain tile floors are noisy underfoot and often cold to the touch, offering poor thermal insulation and contributing to an uncomfortable indoor environment. They are more likely to be a popular choice in residential settings, where they can be utilized on a smaller scale without compromising the aesthetics and comfort of the space. In bathrooms, especially, wood-look porcelain tile can be a popular choice, creating a stand-out aesthetic without the risk of warped or buckled planks - often a risk with wood flooring if it's exposed to high moisture levels.
4) Luxury Vinyl Tile (LVT)
Luxury vinyl tile flooring is an increasingly popular alternative to conventional wood flooring. It can faithfully recreate the look of real wood flooring, with a printed layer displaying wood patterning, covered by a clear, protective wear layer. Some manufacturers offer LVT with a textured wear layer so that it closely resembles real wood flooring.
LVT also offers a host of additional benefits: it has a much quieter acoustic profile than either laminate, engineered hardwood or solid wood flooring, making it the preferred option for widespread commercial use. Its multi-layered structure also enables it to be more comfortable underfoot, and the clear wear layer offers unmatched durability.
It's easy to see why LVT is the fastest-growing flooring type in the world, and why it's an increasingly popular choice for organizations looking to recreate the look of wood flooring without compromising on budget or durability.